Sebastião Salgado TED lecture and GENESIS pre-order
May 1, 2013
We are very excited to share Sebastião Salgado's recent TED lecture where he discusses his dramatic history as a photographer and his monumental global project, GENESIS. The exhibition opens in museums world-wide this year and the first US exhibition will be held at PETER FETTERMAN GALLERY opening June 29, 2013.
We are now taking pre-orders on the two-volume Collector's Edition of GENESIS (Taschen). The book is limited to 2,500 available copies and includes a display stand designed by Japanese architect Tadao Ando. Contact the gallery for more information or to reserver a copy.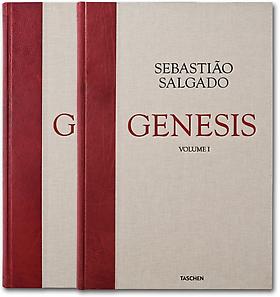 ---
2013 Palm Springs Fine Art Fair
Peter Fetterman Gallery - Booth 503
February 14, 2013
PSFAF is strategically scheduled over the popular President's Day weekend ( Feb, 15-17) traditionally one of the most highly populated weekends of the year in the region. The Coachella Valley explodes in population from 400,000 permanent residents to over 800,000 during this prime time 3 day weekend. Additionally, thousands of design lovers, interior designs and architects will already be planning their visit to the Convention Center as the fun and well attended 13th Modernism Show and Sales is held in the adjacent exhibit hall. It's a rare opportunity for the region's second-home owners, art loving snowbirds, and weekend visitors to experience not only modernism design- but the very best in post-war and contemporary art. The Palm Springs Fine Art Fair is the Desert's largest and widest selection of fine art, ever- with $100 million in art for acquisition, 2,500 important works of art showcased by 50+ renowned galleries from around the world.
View More

---
Winter Antiques Show 2013
59th annual Winter Antiques Show
January 25, 2013
Booth 74
January 25 - February 3, 2013
Open Daily 12:00 p.m.-8:00 p.m.
Sundays & Thursday 12:00 p.m.-6:00 p.m.
Park Avenue Armory
67th St. & Park Ave.
New York City
View More

---
Classic Photographs LA
JANUARY 19 & 20, 2013
January 19, 2013
Booth 12
HOURS
Saturday, January 19: 11:00 am – 7:00 pm
Sunday, January 20: 11:00 – 5:00 pm
Classic Photographs Los Angeles will be held in the newly remodelled preview spaces of Bonhams, one of the world's oldest and largest auctioneers of fine art and antiques
Classic Photographs Los Angeles is a relaxed and informal venue to purchase fine art photographs in a variety of price ranges from knowledgeable and reputable dealers in the field. The emphasis of the exhibition is on small-scale works of art representing the rich texture of photographic history.
View More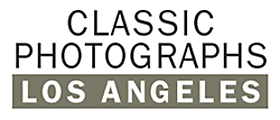 ---
Art Miami 2012
December 4, 2012
Known as Miami's premier anchor fair, Art Miami kicks off the opening day of Art Week — the first week of December when thousands of collectors, dealers, curators, and artists descend upon Miami. World-famous for its stylish gallery-like decor, its outstanding quality and extraordinary variety, Art Miami showcases the best in modern and contemporary art from more than 125 international art galleries.
View More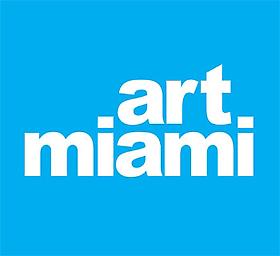 ---
THE SAN FRANCISCO FALL ANTIQUES SHOW
October 25, 2012
THE SAN FRANCISCO FALL ANTIQUES SHOW is the oldest continuously operating international antiques show on the West Coast. The Show features approximately seventy dealers from across the United States and Europe, offering for sale an extraordinary range of fine and decorative arts representing all styles and periods including American, English, Continental, and Asian furniture, silver, ceramics, glass, jewelry, rugs, textiles, paintings, prints, and photographs.
THE SAN FRANCISCO FALL ANTIQUES SHOW is vetted in cooperation with the Antiques Dealers Association of California to ensure the highest quality merchandise.
View More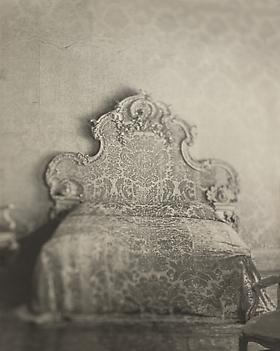 ---
Joel Meyerowitz retrospective book now available
Taking My Time
October 9, 2012
Two volume limited edition of 1,500 copies presented in a slipcase with a print signed by the photographer and a DVD of Meyerowitz's award-winning film.
Joel Meyerowitz (b.1938) began his career making spontaneous pictures on the streets of New York and has become known as one of the most important street photographers of his generation. He was one of a small group of photographers who, in the 1960s and 70s was instrumental in changing attitudes towards colour photography from those of resistance to universal acceptance. An innovator and highly influential teacher, he has won innumerable awards and perhaps is best known for his pioneering colour photographs of architecture, light and space.
View More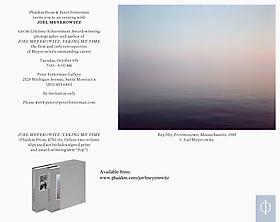 ---
Art Platform | Los Angeles | 2012
A contemporary and modern art fair for Los Angeles
September 28, 2012
We are excited to be participating in Art Platform this year. The event is Sept 28-30 with the opening preview day on Thursday, September 27th. This year the event will be taking place at The Parker Hanger located at 3021 Airport Avenue, Santa Monica, CA 90405 USA. We are excited about what our booth will have to offer and we are looking forward to seeing everyone there!
View More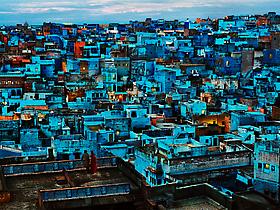 ---
Lillian Bassman: A Life | 1917-2012
February 22, 2012
In our upcoming exhibit we are showing the amazing photographs of the late Lillian Bassman.
The show runs from March 10-June 9.
Opening March 10th, 4-7pm.
We look forward to seeing you and celebrating the life of a magnificent photographer.
We also have copies of the new book, Lingerie.
Here are links to her obituary written by the New York Times and the Los Angeles Times.
http://www.nytimes.com/2012/02/14/arts/design/lillian-bassman-fashion-and-fine-art-photographer-dies-at-94.html?pagewanted=all
http://latimesblogs.latimes.com/alltherage/2012/02/fashion-photographer-lillian-bassman-dead-at-94.html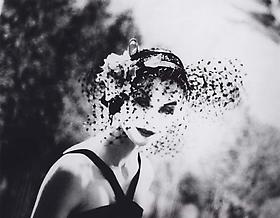 ---
Winter Antiques Show | New York City
January 3, 2012
We are pleased to announce that we will be attending the Winter Antiques Show in New York City.
Come visit us from January 20-29, 2012 at Park Avenue Armory.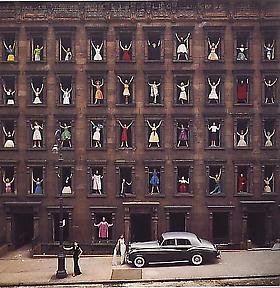 ---
Jerry Uelsmann
December 10, 2011
We are pleased to announce our new exhibition of the acclaimed American photographer, Jerry Uelsmann.
On December 17th Jerry Uelsmann and his wife, artist Maggie Taylor, visited the gallery for a special book signing of Jerry's books, Approaching the Shadow and The Mind's Eye.
Using multiple negatives to produce his surreal, dreamlike photographs, Jerry Uelsmann has developed a singular artistic vision, which has carried him through a nearly 50 year artistic career. Firmly entrenched in his traditional darkroom compositing practices, Uelsmann continues to produce magical and thought-provoking multi-layered imagery without the help of modern computer-base techniques. He received a Guggenheim Fellowship in 1967 and a National Endowment for the Arts Fellowship in 1972. He is a Fellow of the Royal Photographic Society of Great Britain, a founding member of the Society of Photographic Education and a former trustee of the Friends of Photography. His works are featured in the permanent collections of many of the world's most renowned museums and national galleries.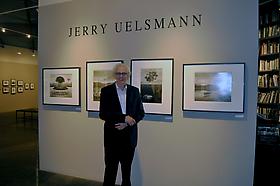 ---
Peter Fetterman and Lizzie Himmel's conversation at The Annenberg Space for Photography
October 6, 2011
At the Annenberg Space for Photography's IRIS Nights lecture, Peter Fetterman and Lillian Bassman's daughter, Lizzie Himmel, discussed the career of Lillian Bassman, women in fashion, and the role of female photographers.
During the presentation, a 20-minute documentary on Lillian Bassman was shown, followed by a conversation between Peter Fetterman and Lizzie Himmel.
Please click the link below for full videos including the documentary on Lillian Bassman and the discussion with Peter Fetterman and Lizzie Himmel.
View videos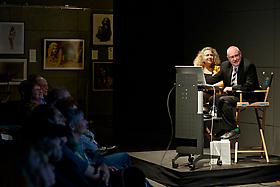 ---
Peter Fetterman | Women: A Celebration
Signed copies available to order!
July 19, 2011
$22.95 [Hardbound]
8-1/2 x 6 inches
Text by Peter Fetterman
Numerous contributing photographers
132 pp., 120 black-and-white and color illustrations
Chronicle Books, San Francisco, 2003
View More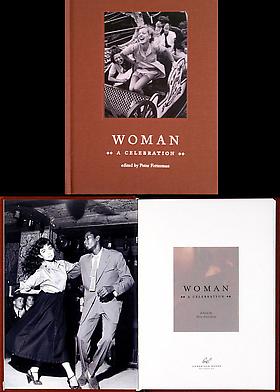 ---
Builder Levy
March on Washington
June 24, 2011
We are pleased to announce the the gallery has just acquired Builder Levy's beautiful platinum print,
"March on Washington," 1963, ed. 3/25, platinum print
Please contact the gallery for purchasing information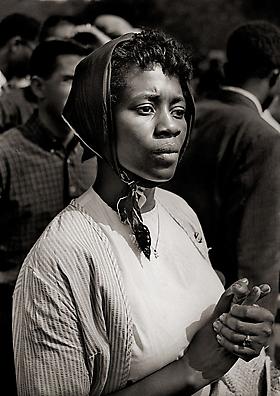 ---
Sebastião Salgado | ALASKA
The New York Times Magazine
June 15, 2011
On June 12, 2011 Sebastião Salgado was cover featured in The New York Times Magazine with a spread of his new images from, "Alaska" along with an interview.
For the online version with a slideshow, follow the link below:
http://www.nytimes.com/2011/06/09/magazine/an-interview-with-sebastiao-salgado.html?_r=1
View More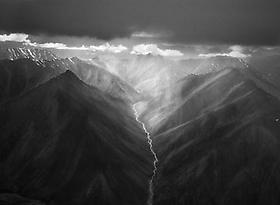 ---
Elliott Erwitt Interview
on 1stdibs.com
June 15, 2011
Elliott Erwitt interview by Julie Belcove in Introspective Magazine
www.1stdibs.com
scroll down on homepage of 1stdibs for a PDF of the interview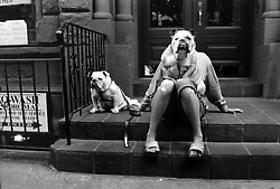 ---
Elliott Erwitt
NY Times: Art and Design Article
June 15, 2011
In the Art and Design section of NY Times online there is an article on Elliott Erwitt: "Captured: A New York Minute, or One in Havana"
For the online version of this article click the link below:
http://www.nytimes.com/2011/06/10/arts/design/elliott-erwitts-photographs-review.html?_r=1
View More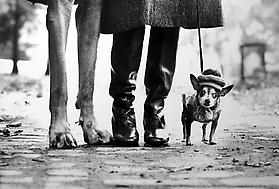 ---
Steve McCurry: The Iconic Photographs:
AVAILABLE NOW
June 7, 2011
Steve McCurry's 30 year retrospective book has just arrived. Available in a limited edition of 3,300 copies, this over-sized monograph brings together the most beautiful, memorable and evocative pictures of Steve McCurry's extraordinary career.
Includes his most famous photographs, such as the green-eyed Afghan Girl as well as images from the streets of India, the temples of Angkor in Cambodia and the Buddhist monasteries of Tibet.
This book includes a print of McCurry's key image, "Flowersellers, Dal Lake Srinagar, Kashmir," 1996, 18 x 12 inch Lambda print signed by the photographer.
Price upon request.
Call or email the gallery if you would like to purchase this incredible limited edition book.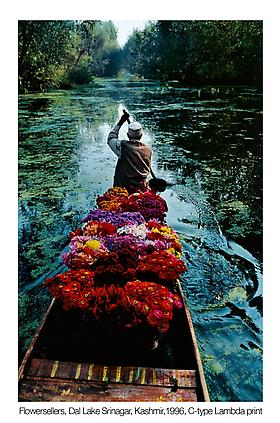 ---
Ron Van Dongen wins the Pierre-Joseph Redouté Prize in France!
June 7, 2011
Ron Van Dongen won the Pierre-Joseph Redouté Prize in France for best botanical and nature book of 2010 with, 'The Tulip Anthology.'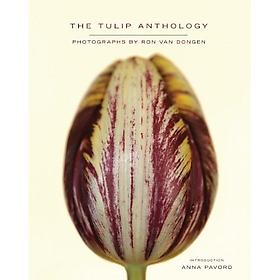 ---
Jeffrey Conley | Winter
Limited edition book AVAILABLE NOW $60.00
April 21, 2011
12 x 11-3/4 inches
Introduction by Peter Fetterman
42 plates
published by Nazraeli Press
View More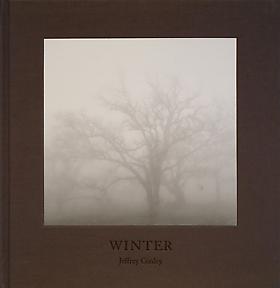 ---
Sebastião Salgado | Genesis
New catalogue designed by Lélia Wanick Salgado AVAILABLE NOW $10.00
March 24, 2011
6 x 8-1/2 inches
27 pages
24 black-and-white illustrations
exhibition history of Salgado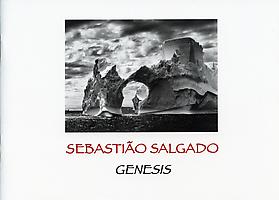 ---
Big Move: From A7 to A1
March 23, 2011
With the ongoing changes at Bergamot Station came our time to expand our gallery from A7 to A1. In this beautiful 3200 square feet of space, we have finally nestled into our new home with an upcoming exhibition of work by new landscape photographer Jeffrey Conley, and renowned Magnum photographer, Elliott Erwitt. We ended our 16 year residency at A7 with a charming but bittersweet exhibition, "Farewell A7", a selection of gallery favorites which Peter has collected over the past 20 years. Although the exhibition is no longer on view, we are very happy with our current layout of the new space, beginning with our beautiful project room which is currently dedicated to one of the most reveled artist of all time: Sebastião Salgado, and his new images from his ongoing 'Genesis' series.
We hope you can visit our new space!
Peter, Paul & Tricia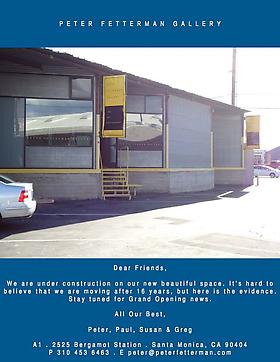 ---
Article on Sebastião Salgado and Lélia Salgado's foundation Istituto Terra
January 25, 2008
Philanthropic Pitch
Brazil's Johnny Appleseed
Edited by Richard C. Morais, 01.25.08, 03:00 PM EST
Photojournalist Sebastiao Salgado Jr.'s quest is to restore Brazil's Atlantic rainforest.
View More
---
Lillian Bassman: A Life 1917-2012
November 30, -0001
In our upcoming exhibit we will be showing the amazing work of the late Lillian Bassman from March 10-June 9.
Opening March 9th 2-6pm.
We also have the new book Lingerie available for purchase.
We are looking forward to celebrating the very talented Lillian Bassman.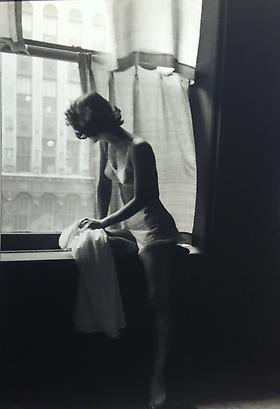 ---